2020 has brought new challenges and pressures, causing organizations to reassess their IT requirements, strategies, and spending. Conducted in the second quarter of 2020, this report surveyed 1,054 IT and business professionals.
Understand why organizations are adopting enterprise cloud, specifically VMware Cloud on AWS. Download the 2020 market survey to gain insights on why making the move to VMware Cloud on AWS is the right fit for you.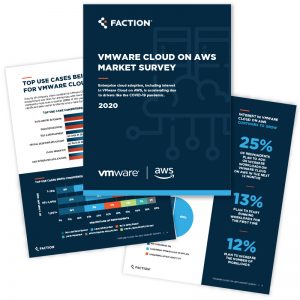 COVID-19 is accelerating cloud migration plans.
Interest in VMware Cloud on AWS continues to grow.
COVID-19 is influencing the drivers and timelines for VMWare Cloud on AWS plans.
Interest in VMware Cloud on AWS spans industries and use cases.
Off-premises private cloud users will be a major source of growth for VMware Cloud on AWS
Growing interest in VMware Tanzu
Download the full 2020 VMware Cloud on AWS Market Survey to read all about the ongoing interest in scalability and data center extension.