VMware Cloud on AWS Monthly Digest – December 2020 | Newsletter
VMware Cloud on AWS Digest News & Highlights | December

 2020
---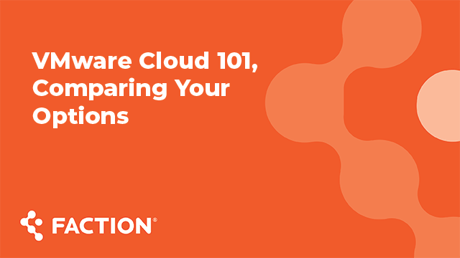 Webinar Replay: VMware Cloud 101, Comparing Your Options
VMware Cloud is now available on multiple public clouds: VMware Cloud on AWS, Azure VMware Solution, Google Cloud VMware Engine, and Oracle Cloud VMware Cloud Solution. How do you choose the right one(s) for your environment?
---

VMware Cloud on AWS: Winner of CRN's 2020 Products of the Year: Best Hybrid Cloud solution based on Customer Demand
The recognition of this award highlights how VMware Cloud on AWS has garnered real-world satisfaction among customers and partners with its agility, innovation and flexibility.
---

Interest in Enterprise Cloud Adoption Continues to Grow into 2021
At a time when COVID-19 is putting many IT plans and initiatives on hold, others are actually accelerating. Businesses of all sizes in varied fields are adapting to a host of new pressures. They're adjusting and innovating — quickly.
---
Join Faction at one of These Upcoming Industry Events: