VMWARE CLOUD ON AWS MONTHLY DIGEST – JUNE 2020 | NEWSLETTER
VMWARE CLOUD ON AWS DIGEST NEWS & HIGHLIGHTS | 

June 2020
---
BrightTALK Webinar Series for VMware Cloud on AWS
This 6-step blueprint webinar series is for everyone – from novices to experts – as they assess, plan, and then execute their move to VMware Cloud on AWS. Each of the six steps provides both business and technical guidance. Steps 1 & 2 are available on-demand and Step 3 airs 6/30. Visit the Faction BrightTALK channel for the full schedule.
Visit the New VMware Cloud Tech Zone
Take a deep dive into all things VMware Cloud on AWS in our new Tech Zone. Full of technical content, use cases, expert opinion, tools and resources, it's here to help you extend your capabilities and maximize the service's potential in your organization.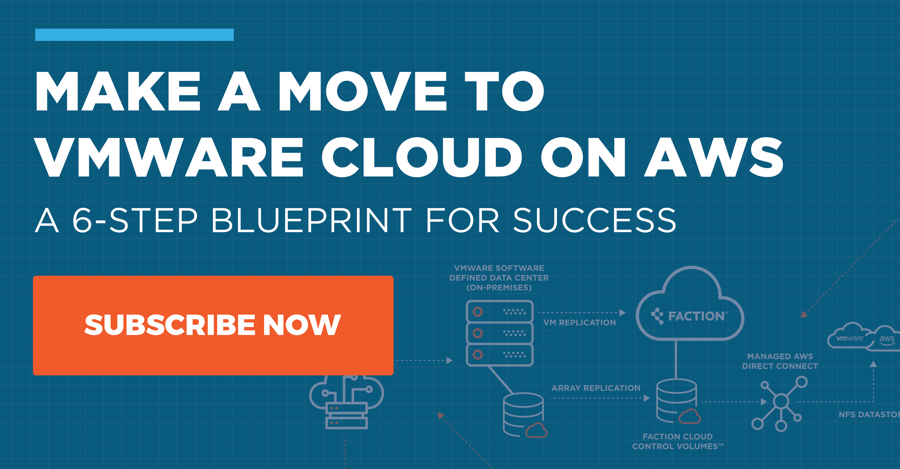 Access Your Free Crash Course
Moving to VMware Cloud on AWS is easy when you follow the 6-step blueprint with tips for both novices and experts. Get started today!
VMworld Registration is Now Open!
It's VMworld like never before. Starting at 9 am Pacific time (UTC -7) on September 29, explore 48 hours of non-stop innovation, online around the globe.
---
Join Faction at one of These Upcoming Industry Events:
---