In this guide, we will be discussing (click on link to jump to section):
I. What is Multi-Cloud?
II. Data Availability Challenges in Multi-Cloud Environments
III. Multi-Cloud vs Hybrid Cloud – What's the Difference?
IV. How Secure is Multi-Cloud?
V. Who is Using Multi-Cloud Computing?
VI. What is a Multi Cloud Approach?
VII. Three Challenges Organizations Face with Multi-Cloud Storage
VIII. How to Tackle a Multi-Cloud Approach
IX. Why Use a Multi-Cloud Strategy?
X. Best Practices to Take into Consideration Before Implementing a Multi-Cloud Strategy
XI. What is Multi-Cloud Management?
XII. How to Choose a Cloud Data Service
Let's dive in:
What is Multi-Cloud?
Multi-cloud is the utilization of two or more public cloud providers to serve an organization's IT services and infrastructure. There is no single multi-cloud vendor.
A multi-cloud approach typically consists of a mix of major public cloud providers, namely Amazon Web Services (AWS), Google Cloud Platform (GCP), Microsoft (Azure), and IBM.
Organizations choose the best services from each cloud provider based on costs, technical requirements, geographic availability, and other factors. This may mean that a company uses Google Cloud for development/test, while using AWS for disaster recovery, and Microsoft Azure to process business analytics data.
Organizations that adopt a multi-cloud architecture may leverage multiple public clouds in combination with private cloud deployments and traditional on-premise infrastructure.
The capability to distribute workloads selectively between various computing infrastructures with a multi-cloud approach provides competitive advantages for these organizations, including cost savings, reduced barriers to innovation, stronger disaster mitigation and business continuity planning, and increased efficiency.
Data Availability Challenges in Multi-Cloud Environments
In addition to the advantages, multi-cloud adoption can present an entirely new set of challenges. One of these challenges, data availability, is the process of maintaining access to your data at your required level of performance in situations ranging from normal everyday operations to disaster recovery operations.
Individual cloud providers have already solved many of these data availability problems within the context of their own clouds or services. Cross-service consumption, cross-region replication, snapshots, and backups, are all services cloud providers currently offer to help combat data availability problems.
What happens though, when we start thinking about the same data across multiple cloud providers? Organizations would need to take on the role of coordinating data availability and security across multiple cloud providers. Ask these questions before attempting to use the same data sets across clouds:
How do I take the output from a service in one cloud provider and use it as input for a service in another cloud provider?
How do I implement consistent data management policies across multiple cloud providers?
How can I safely read and write to the same data set across multiple cloud providers?
How can I manage capacity and performance across multiple cloud providers to ensure consistent performance?
These are just a few examples of the data availability challenges you might encounter when implementing a multi-cloud strategy.
Multi-Cloud vs Hybrid Cloud – What's the Difference?
Multi-cloud and hybrid cloud are both common architectures for cloud deployment, but each has its own unique definition and they are certainly not the same thing.
A multi-cloud architecture is one that includes two or more clouds of the same type. Some organizations use multiple private clouds to deliver services, while others use multiple public clouds from different vendors – these are both examples of multi-cloud architectures.
A hybrid cloud architecture solution is one that includes a combination of public and private cloud infrastructure, and which allows for orchestration between the two. Hybrid cloud architecture can also include connected on-premise data centers.
Multi-cloud and hybrid cloud deployments are not mutually exclusive. An organization that orchestrates workloads between an on-premise data center, a VMware private cloud, and multiple public clouds is pursuing both a hybrid cloud and a multi-cloud strategy.
How Secure is Multi-Cloud?
Multi-cloud security has the goal of protecting data in a consistent way across a variety of cloud providers. In a multi-cloud approach, third-party partners handle different aspects of security. During cloud deployment, it's important to clearly define and distribute security responsibilities among the parties.
Who is Using Multi-Cloud Computing?
Organizations are continuing to embrace the multi-cloud environment, with the adoption of multi-cloud architectures reaching an all-time high among enterprises.
A multi-cloud management survey conducted in 2019 by the International Data Corporation revealed that 81% of enterprise organizations were using multiple public clouds along with one or more private cloud deployments to support application workloads while maintaining privacy and reducing IT spending.
In the ninth annual State of the Cloud Report, 554 IT professionals from public and private sector companies with 1000+ employees were asked about multi-cloud adoption within their organizations. In total, 93% of respondents indicated that their organizations had adopted a multi-cloud approach to meet their computing needs.
Another survey on cloud adoption examined how enterprise organizations were incorporating services from the big-three multi-cloud vendors (Amazon Web Services, Microsoft Azure, and Google Cloud Platform) into their network architectures. The results indicated that 40% of respondents used two or more of these providers, while an additional 18% used all three providers for various application workloads.
What is a Multi Cloud Approach?
Multi-Cloud is an approach that leaves many IT leaders scratching their heads in confusion for a number of reasons. Whether the reason is lack of insight into how to leverage multi-cloud or understanding the value of this approach, we know that Multi-Cloud is here to stay. According to Gartner, multi-cloud strategies will jump from 10% in 2015 to more than 70% by 2018.
Once an IT leader buys into the idea that utilizing a multi-cloud approach is in the best interest of their organization, a new stage of confusion tends to emerge. Often they don't know how to navigate a multi-cloud strategy and how to properly architect and manage multiple cloud vendors in an organized fashion. The goal isn't to spread data and applications all over the internet!
Three Challenges Organizations Face with Multi-Cloud Storage
1. Finance Challenges:
Optimizing the cost of storage
Hidden (or not so hidden) egress charges
The development cost of re-platforming apps to move to the cloud
2. Integration Challenges
Lack of experience/process for integrating multiple clouds
Making it work with existing data
Making Data Fabric "real" in the public cloud
Leveraging existing investments (a la Snapmirror, RecoverPoint)
3. Technical
Multi-Cloud is hard, and often organizations don't have the expertise on-hand
Managing the complexity utilizing diverse functionality from multiple clouds
Huge complexity integrating clouds (especially multiple clouds)
Big Data requirements can be tricky to handle
Getting all of the major providers, like AWS, Azure, Google, Oracle and IBM to work together so organizations can form a seamless multi-cloud is highly unlikely, so what's the solution?
How to Tackle a Multi-Cloud Approach
In tackling a multi-cloud approach, organizations need to start with assessing their existing approach and defining a new strategy that encompasses how they manage the things that are and will always be important, such as compliance, risk, and cost control, and still have a sense of control over the management of their environment.
To address these operational challenges of a multi-cloud reality, IT teams will need the ability to visualize resources and manage performance across all environments. Only then will you enable your organization's infrastructure to be used as a competitive advantage rather than as a risk.
Why Use a Multi-Cloud Strategy?
With adoption rates for multi-cloud climbing across industries, there is a driving force that's pushing enterprise organizations and small-to-medium-sized businesses toward the multi-cloud paradigm.
In fact, there are several reasons why more organizations each year are choosing to implement and refine their multi-cloud strategies. Here are just a handful of reasons why we're seeing unprecedented multi-cloud adoption rates across the information technology landscape.
Flexibility
Respondents to a 2018 Forrester Consulting survey were asked to describe their organization's multi-cloud strategy. The number one response was that organizations were using multiple public and private clouds to host different application workloads.
The ability to distribute application workloads across cloud deployments offers huge benefits.
Organizations can store and maintain sensitive data in private cloud deployments or on-premise data centers to meet their data security and privacy obligations.
The additional choice of multiple cloud environments gives you flexibility and the ability to avoid vendor lock-in.
They can allocate different types of workloads to the best-choice public cloud environment based on requirements for cost and performance. Some cloud service providers are more cost-effective for high volumes of requests with low data storage requirements, while others may be better suited for lower request volumes and larger transfers of data.
Organizations can also adopt multi-cloud to take advantage of vendor-specific features that are unique to a cloud service provider and that may offer savings or efficiency gains for a certain application workload or use case.
Proximity
Leveraging services from more than one public cloud service provider can allow organizations access to new availability zones that are more proximal to users, resulting lower network latency and enhanced application performance.
Let's take AWS cloud services as an example.
Amazon maintains a global network of data centers across 24 regions, a number they claim is twice more than the next largest provider of public cloud services.
Each of these regions includes one or more availability zones, defined as data centers with 50,000-80,000 servers that use 25-30 MW of power. There are 76 availability zones in total, and those within each region are connected by low-latency, high-speed networks.
By taking advantage of these AZs, organizations can position data storage and compute resources closer to their users. This results in improved application performance and an enhanced customer experience.
Resiliency
Business resiliency is another key driver of multi-cloud adoption for IT organizations.
Even the largest public cloud service providers experience network issues that can result in business-impacting service interruptions for their customers.
A notable example occurred recently, on June 2nd, 2019, when a cascade of errors created a network congestion crisis that resulted in four hours of service interruptions for customers of Google Cloud Services. As Google scrambled to address the root cause of the outages, major platforms like Snapchat, Shopify, and YouTube experienced major outages with real impacts on revenue and degraded customer trust.
Organizations that adopt a multi-cloud architecture can reduce the impact of service outages by implementing a fail-over strategy that moves application workloads from one public cloud to another when a service interruption occurs.
Instead of waiting for a cloud vendor to resolve technical issues, these organizations can simply re-locate their workloads to a secondary cloud and continue business as usual — without interrupting service to customers.
Shadow IT
The need to standardize data access and rein in "Shadow IT" is another key driver of multi-cloud adoption for organizations of all sizes.
If you're not familiar, the term "Shadow IT" describes situations where business units in an organization adopt cloud services and technologies independently of the IT department.
According to a 2019 study conducted by McAfee, the average company uses a total of 1,083 different cloud services – yet just 108 of them, on average, are known to IT. That leaves an average of 975 cloud services per company that fall into the category of Shadow IT.
Cloud storage apps like Dropbox or Google Drive may be used to support file sharing and collaboration between employees. Eventually, these services may become so central to the functioning of the business that it becomes necessary to manage and secure them through the IT department.
This creates a de facto multi-cloud architecture where the IT department is managing several different clouds that are in use by the business. In fact, a 2018 report compiled by IBM analysts discovered that 59% of businesses had moved to multi-cloud architectures through the adoption of cloud services by independent business units.
Best Practices to Take into Consideration Before Implementing a Multi-Cloud Strategy
Proactively monitor cloud and infrastructure applications
Align IT resources with business demands
Identify infrastructure needs to improve application performance
Look into both on-premise and public cloud costs to make informed decisions
Research hybrid and multi-cloud infrastructure and services you may not be familiar with
Prioritize automation to make migration less painful
Identify regulatory compliance issues before migrating
All of this is much easier said than done, so if you're struggling to implement or manage a multi-cloud environment, we recommend leveraging a third-party to assist with the evaluation, architecting, planning, and execution of cloud migrations, and possibly even managing the new environments. Through overcoming these challenges, you can ensure a successful implementation and know that your organization is on track for leveraging the benefits of multi-cloud.
What is Multi-Cloud Management?
Multi-cloud network architectures are the new normal for the world's leading organizations. In 2020, 35% of enterprises are using four or more public clouds, and many continue to experiment with additional cloud vendors whose services they may wish to use in the future.
As the adoption rate of multi-cloud nears 100%, the next major frontier for the most innovative businesses is multi-cloud management.
Multi-cloud management can be described as workload management between public, private, and on-premise IT infrastructure. From a business standpoint, effective multi-cloud management promises to:
Help businesses drive down costs and leverage the cost-saving potential of multi-cloud deployments
Provision services more quickly to the business when required
Accurately organize, prioritize, and distribute application workloads to meet business objectives
Anticipate service degradations earlier and avoid service interruptions with coordinated failover
Reduce costs by eliminating or downsizing under-utilized VMs
Use reserve instances where possible and effective to save on costs
Enterprise organizations will need an effective multi-cloud management strategy to get the most out of their investments in multi-cloud, but many may still be steps away.
IBM found that while 98% of organizations were planning to leverage multi-cloud infrastructures by 2021, just 41% had a formalized multi-cloud management strategy.
How to Choose a Cloud Data Service
Organizations are increasingly relying on cloud provider services to offload large portions of their application stacks. For example: databases, message queues, batch processing, load balancing, and traffic management, just to name a few.
If we wanted to treat data the same way, how would an organization choose a "data-as-a-service" provider? For starters, that provider would need to resolve the availability problems in a multi-cloud environment.
Let's look at the full list of criteria:
1. Geography
The service would need to be geographically proximate to the cloud providers an organization is using. Light only allows data to travel so fast, so being as close as possible ensures acceptable levels of latency.
If the organization uses clouds located in the "US-East (Virginia)" region, they would work with Cloud Data Services providers that also reside in this region.
Not all data center providers in the region are created equal. Choosing the correct geographic location and datacenter partner can significantly improve latency, but choosing the wrong one can hinder your productivity.
Some providers offer round trip latency under 1ms to both AWS and Microsoft Azure in the "US-East (Virginia)" region. However, in the same region, other providers' services can reach as high as 2ms round trip latency.
Choosing a provider that provides low latency to all targeted public cloud providers will provide consistent performance and improve throughput (IOPS) to the storage service.
Choosing the correct data center provider can have a significant impact on latency and performance of Cloud Data Services.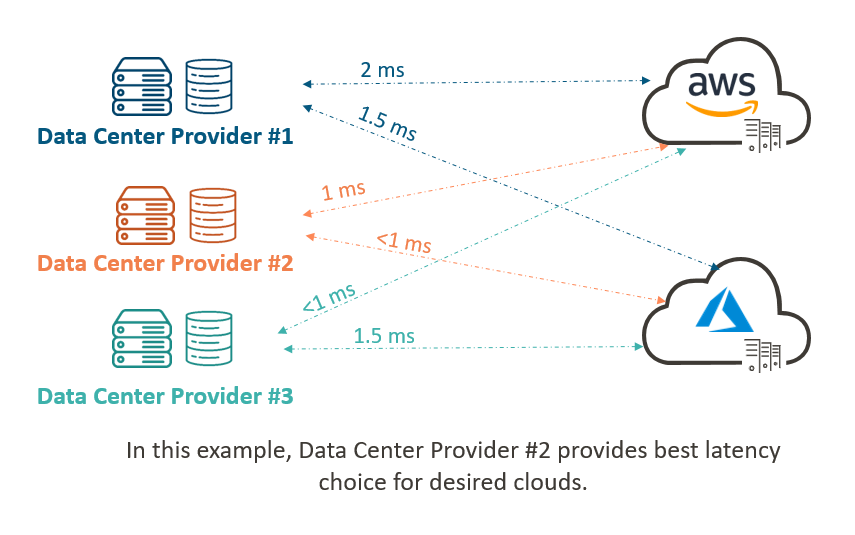 2. Connectivity
The service would need the ability to securely connect to the cloud providers your organization is using. The ideal service would provide a low-latency connection, with adequate throughput, to consume the storage service. This would include using services like DirectConnect for AWS, ExpressRoute for Azure, and Cloud Interconnect for GCP.
3. Consumption
Look for a service that allows all of your cloud providers to simultaneously access your data. Without simultaneous access, an organization's choices for service consumption are limited to the public cloud where the data is accessible.
Having simultaneous access to the same data set from multiple cloud providers allows organizations to put services from different providers in head-to-head competition.
Using file systems and protocols that support file locking allows the service to provide this functionality. NFS and CIFS are commonly used to meet these requirements.
The service would also need to provide a flexible endpoint consumption model. Your organization may want to consume storage from the same IP space across all of your cloud providers, or your organization may want a unique IP space for each cloud provider.
Having the flexibility to choose which IP space you consume the data from provides organizations the ability to adhere to any existing IP schema requirements and standards. Organizations are not required to compromise the ability to consume data from a singular storage platform, while still maintaining flexibility in the data consumption methods.
Being able to consume data as a service across multiple cloud providers can change the way we think about and consume cloud services. Organizations will be able to shift from one cloud to another, or use multiple clouds simultaneously, to take advantage of cloud innovations and cost savings — all without worrying about data portability.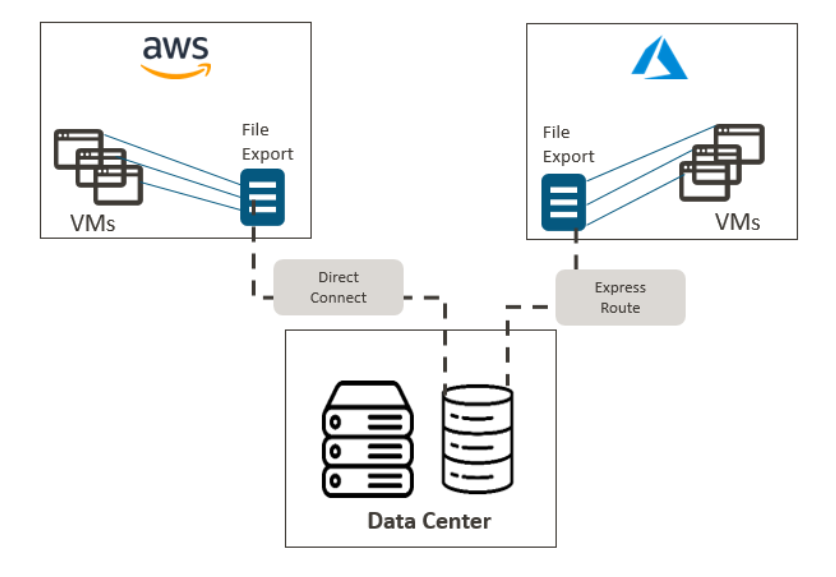 Organizations can ingest the data using one provider, process the data with a second provider, and maybe even visualize the data with a third provider. The sky really is the limit when it comes to flexibility and innovation potential this provides.
It gives organizations the opportunity to spend less time thinking about how to manage data and spend more time thinking about how to use the data.
What are the Benefits of Multi-Cloud Solutions?
Faction Inc. provides multi-cloud storage and resilience capabilities, giving your business a competitive advantage in multi-cloud adoption, management, and value generation while your competitors struggle to keep pace. Multi-cloud means golden opportunities for CIOs to deliver value.
If you're interested in learning more about Cloud Data Services, Faction is helping organizations solve multi-cloud data availability problems by abstracting their data from individual cloud providers so it can be consumed as a service. When data is abstracted from the cloud, the complexities of data protection and disaster recovery are reduced. With this unique architecture, a single copy of data can be accessed by all clouds simultaneously for all the clouds, cutting storage costs by 3-4x. As an additional benefit, organizations retain centralized control and boost innovation through access to the latest best-in-class services from multiple cloud providers. Want to learn more? Contact Us.
Ready to Make Multi-Cloud Work for your Business?
Or watch our exclusive multi-cloud webinar where we share insights from supporting multi-cloud adoption across industries, key use cases for multi-cloud, and why your organization will benefit from a multi-cloud strategy.
View Webinar: Getting Real with Multi-Cloud: How Enterprises are Evolving to Compete